17 February 2012
Ruby on Rails Authentication and Authorization Part 2
In Part 1 of this article we discussed what authentication and authorization means and what we want our security to do for us. Now it is time to configure Devise so that we can begin to customize it.
First lets create our Rails application "mysecurity" by running the command "rails new mysecurity".
Ruby on Rails Authentication and Authorization Part 2
Terminal window in a directory of your choice
Our RoR application framework has now been created in the directory in which you ran the command. Change into the newly created "mysecurity" directory and edit the file "Gemfile". We are going to add the line gem 'devise' to the "Gemfile" file as shown below.
Gemfile in the mysecurity directory
The next step is to install devise using the command rails generate devise:install which produces the result.
Terminal window in mysecurity directory
Following the directions of the output from the command change to the "mysecurity/config/environments" directory and add.
mysecurity/config/environments/development.rb
to the development.rb file. Change to the "mysecurity/config" directory and add the following line to the routes.rb file.
mysecurity/config/routes.rb
Next we need to run the "rails generate devise user" followed by the "rake db:migrate" commands to build the database tables for Devise.
Terminal window in mysecurity directory
If we now run the "rails server" and go to the URL "http://localhost:3000/user/sign_in" we should see the results as shown below.
Terminal window in mysecurity directory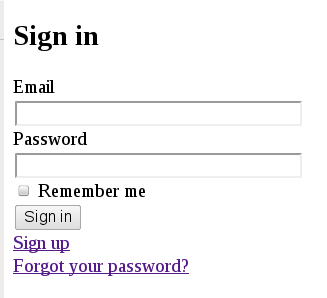 Using the Firefox add-on SQLite Manager we can also view the SQLite database development.sqlite3 located in directory mysecurity/db/. This will look similar to the below and is how I knew what fields to use in my database design in Part 1. This is illustrated in the screenshot below.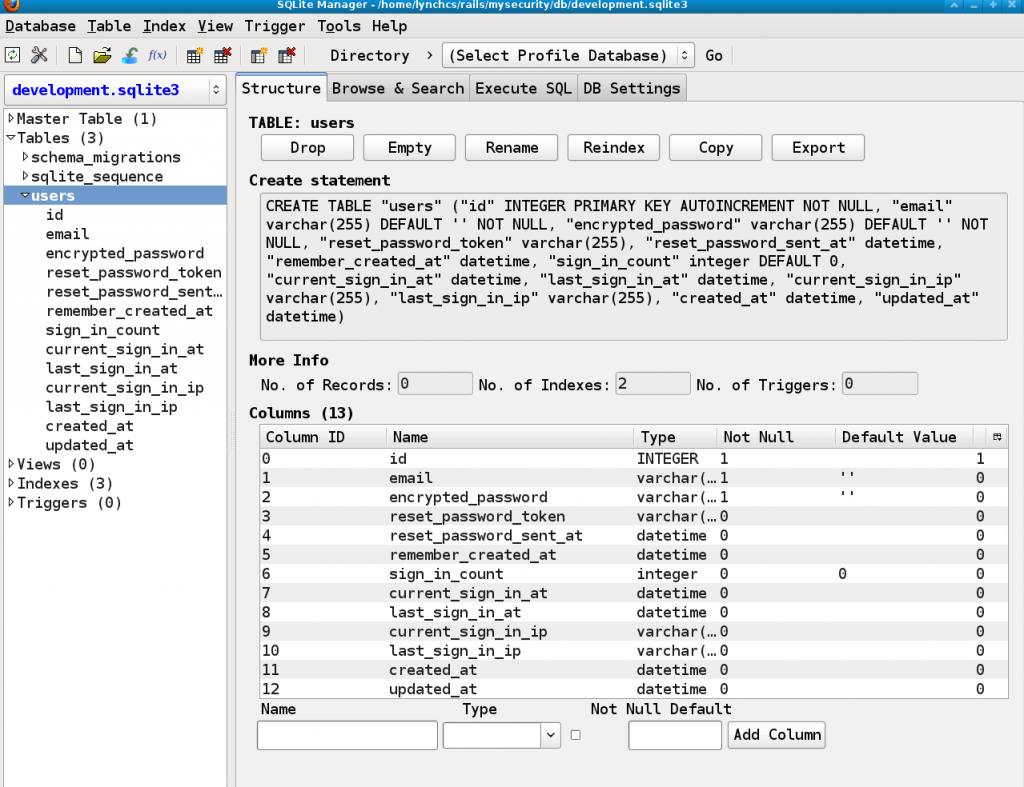 Lets press the keys "Ctrl-C" and shutdown the application server. Next we will generate view files that will allow us to customize the user interface. Go to the mysecurity folder and run the command "rails generate devise:views". Which should deliver results similar to the following.
Terminal window in mysecurity directory
We have now installed and configured Devise preparing it to be customized. In Part 3 of the article we are going to modify and add files necessary to handle our hierarchical roles.
tags:
RoR
-
Ruby
-
Ruby on Rails
---